At Rehamed Therapy, we are breaking new ground to offer our world-class team for physio at home! Our Physio-on-the-Road service provides patients the opportunity to enjoy physiotherapy and rehabilitation in the comfort of their own home, making treatment more accessible.
For those patients who may not be able to travel due to intense surgical interventions, inaccessibility of transport or simply are not comfortable traveling during these times, Rehamed's therapists are able to travel to provide physio at home (and, of course, sports rehabilitation as well) to accelerate their recovery.
Our goal is always to help as many people as we possibly can, and through Physio-on-the-Road we promise to widen our coverage even further!

Physio at Home for Daily Life
Physiotherapy is the treatment of abnormal pain and issues like injuries, physical disability, non-communicable diseases and other physical conditions. Physiotherapists are trained and licensed to recover an individual's physical and physiological function in order to improve the quality of their daily lives. They do their best work in the acute phases of injuries whereby the pain is most excruciating, however can also provide long-lasting relief for chronic pains and conditions.
The main physiotherapy strategy in completing this road to recovery is focused on the medical aspects of the injury/impairment (symptom management) and also of course rehabilitating the root cause of the injury. Further, a key point that we address in returning you to activities of daily life is ensuring that you are knowledgeable on the injury/impairment and providing guidance to help self-manage and continue improvement of the condition.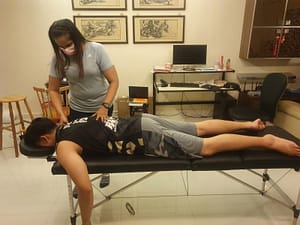 Active and Sports Therapy
In sports therapy and active rehabiltiation, both physiotherapy and sports science (and sports medicine) are utilized throughout the recovery process. They both play active roles in returning the patient to daily life and, especially sports science, return-to-sports. Sports therapy is typically applied following significant injury and/or surgery.
Sports therapy is initially base on physiotherapy, which is typically more passive, using electrotherapy modalities (such as TENS, IFS, etc.) and manual therapies targeting soft tissue manipulation and joint mobilization. As sports therapy becomes more progressed, the therapists will focus on more active and exercise-based therapy helping to restore balance and strength to the injured body part. This is vital as the basis for returning to daily and sporting activities.
With the combination of physio at home and sports science, we are able to optimize rehabilitation and recovery.
Injury Prevention
Injury prevention is somewhat self-explanatory: it is intended to prevent either re-injury, further injury, and/or getting injured in general. The basis of injury prevention is adapting the exercises performed during sports rehabilitation and incorporating them into a strength and conditioning (S&C) program. A general S&C exercise regime is sometimes not sufficient to prevent injury as there are many aspects to cover aside from muscle strengthening. In order to prevent injury, it is important to upkeep and improves mobility, flexibility, stability (static and dynamic), strength, power, and last but not least, cardiorespiratory fitness.
Regardless of whether an individual has been previously injured or not, injury prevention is still an important aspect of the sport (and active daily living in general). Physically recovering from the injury is only part of the process, the mental aspect/journey of injury recovery is equally as taxing, if not more. However, as the saying goes, "prevention is better than cure".
Aqua Therapy
Aqua therapy has become a popular rehabilitation technique amongst physio- and sports-therapists. In aqua therapy,  water becomes a therapeutic exercise medium. A pool is the safest environment to perform any exercise, due to the low impact of physiological loads in the water, in comparison to on land.
Aqua therapy can be beneficial and useful in the treatment of everything from orthopaedic injuries to spinal cord damage, chronic pain, cerebral palsy, multiple sclerosis, stroke, and many other conditions. Other than that, it can also be implemented in general conditioning, strength and a variety of movement skills training. Finally, for neurological conditions, aqua therapy also provides relaxing effects and the warmth of the water helps reduce the muscle tone and spasticity.
For those patients seeking physio at home that have access to a private swimming pool, our Physio-on-the-Road therapists will be able to provide aqua therapy for safer and more fluid recovery.
[tc-owl-carousel carousel_cat="potr"]